The launching place for HBB - Svinesund
The starting point is right under the Old Svinesunds Bridge. These are the coordinates: 59°05'50.1"N 11°16'14.8"E
Driving along E6 road signs direct you to "Gamla Svinesundsbron" (Old Svinesund's Bridge) and "Köpcenter" (shopping centre). Now on the old road to Oslo you will soon reach a roundabout where you turn left into the "Köpcenter". Then turn right at the T-crossing and further down you will find a small road to the left running down to the old ferry berth  (see the red line in the map below).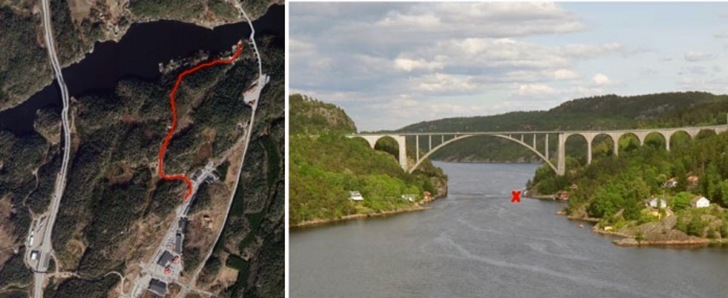 The small winding road ends at a small parking lot just below the bridge. It is possible to set up a small tent here, but it is not easy to launch here at the small quay. Then it is better at the small sandy beach some 50 meters south, but in between there is a private property. If the owners are at home ask for permission to pass. If not you can also carry your kayak and equipment from the road over the uninhabited area above the small beach.  At this slope many paddlers have set up their tents the night before launch. It is a good recommendation to explain your paddling plans for any neighbours.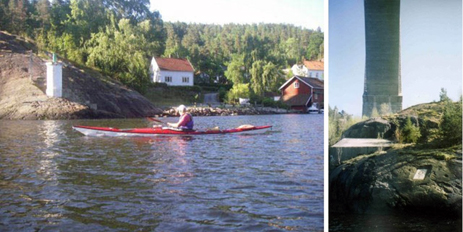 The old ferry berth seen from the sea, where the narrow and steep road leads from the shopping centre. The starting point is just to the left of the white mark where the paddler is on the way to turn around under the bridge and start the long paddling towards Haparanda. It is a good idea to plan the start so the the tide water is on its way out of Idefjorden.  See for example:
https://kartverket.no/til-sjos/se-havniva
Enter "Svinesund" in the search field.