Om HBB
Sea paddlers Blue Ribbon of Sweden - How it all startedl
In translation by Lennart Bergström
From Solna across the sea of Åland, north along the Finish coast to Haparanda Sandskär, south along the Swedish coast back to Solna – so ran my trace and was prolonged during the tour 1990 around the Bothnia Bay.
At day 49 of my tour I reached the bay at Sundsvall and led my vessel across its wide water. I was the captain, navigator, master of provision, chef and engine – all in one.
I saw the undulation that was made in the bow by the kayak's sweep in the water. The thought went to the magnificent ships crossing the sea all over the world. In Mount Prospect, a suburb of Chicago, I sat one evening long time ago speaking with my oldest aunt, who once had reached America with Lusitania, one of the large ships bringing emigrants from Europe across the Atlantic to New York. Lusitania was later torpedoed by a German submarine during the First World War, at which 1,198 people were lost. This touched my aunt strongly as she newly had travelled with the ship.
Once more I had a look at the undulation from the kayak. Surely did even I cross a sea. Surely was I a seafarer in water connected with the water where the large ships were running.
More than half of the bay at Sundsvall was now behind me, I should soon be close to land and would not have long way to an old camping site. The thought returned to the talks about the large ships that evening in Chicago. I knew the fastest ship to cross The Atlantic was given The Atlantic Blue Ribbon. In the beginning the "Ribbon" was a "Blue Pennant" given to the Clipper ship fastest between Australia and Great Brittan. Than it stroke me. Across the Atlantic no one has paddled in a common kayak with only a paddle as power - I do not believe it is possible. But who will be fastest along the Swedish coast in a kayak? Why not a blue kayak ribbon? As the first glamour after the just born idea had calmed off and when I consulted more experienced paddlers, I change the idea in that respect that all who paddle the coast should be individual owner of the ribbon regardless how long time the tour will last, as long as it was performed in same calendar year. By this eliminating safety risks that probably should occur if only one band should be given to the fastest at the moment.
To prevent the band to be associated with Atlantic, Göta Canal or else, the name Havspaddlarnas Blå Band - Sea Paddlers Blue Ribbon of Sweden ought to be plausible. If I then had anticipated that first Finland and then Denmark pleasingly should follow up with Havspaddlarnas Blåvita Band */ respective Havkajakroernes Rødhvide Bånd */, I unsearched would have found the name Havspaddlarnas BlåGula Band */. Especially with thoughts of the signals from Norway and Germany of similar Ribbons. But the original approachability was Atlantic Blue Ribbon. The name Havspaddlarnas Blå Band remains. I hope it stayes by that.
As I had embarked at Solna after my fifty-one days tour around the Bothnia bay and brought the idea forward among paddlers, it was at first met by scepticism and disinterest. There were however some with visions and a mind open for things a bit difference. Mikael Rosén had a close look at the rules I had established. Erling Bengtsson suggested a display case with future conquerors name under a blue ribbon. This later was mentioned as "Havspaddlarna's Hall of Fame" in daily talk. Mats Grindvik made a miniature kayak of leather as a trophy to eventual conquerors and also made above mentioned display case that now is exposed at Point 65 in Solna. Thorvald Nielsen became a rock in interpreting the rules and Curt Ostwald became grand old man in the jury that was formed.
It was strived for the rules to be easy and low of numbers and without double meaning for easiness to paddlers and jury. The inward sense was already from start that the tour should be made in single kayak as a long-tour, while the paddler after own seamanship and own capability without support should fulfil the tour along the Swedish coast.
After reconnaissance it was decided that the starting point should be at the abutment of the old Svinesund Bridge at the Swedish side and finish point at the land mark number 59 at Torne River south of Haparanda. The tour should be made from south to north. This among other suspects that the paddler should face perhaps the most difficult distances during the tour's first part and be given the possibility to abandon before the tour had lasted too long. It might be frustrating starting in north, paddle very long to finally be forced to abandon if Skåne's and Halland's open coasts would be too much.
The wind statistics are favourable too with the tour from south to north. I was also suspected that some paddlers like to start early in the year that would often be impossible due to ice situation with a start from north. Furthermore it was assumed that some future conquerors should compare the number of days their tour should last. From many aspects a single direction would make it easier to judge the tours.
The one who really likes to paddle from north to south does this anyhow. One can obviously paddle the Swedish coast without conquering HBB, as Havspaddlarnas Blå Band soon shortly was called.
Five by us known paddlers had earlier in their own ways paddled the Swedish coast without following the HBB rules, as those did not exist at the time. The five paddlers concerned accepted and become honourable members. So it was settled. The five paddlers are Stig Nyberg, Olle Perlefeldt, Jan Herstad, Gustav Herstad and Tomas Herstad.
In the autumn of 1990 the HBB was considered to be founded. The rules were printed and a jury was constituted. Members at the start were Erling Bengtsson, Jim Danielsson, Mats Grindvik, Thorvald Nielsen and Curt Ostwald.
The winter passed but no paddler announced to start. HBB was probably too unknown and the about 2300 kilometres long distance perhaps held back the paddlers. The difficultness to get the time off from work the long time a tour should need, also added to the non applications. To at least bring one HBB-paddler to the daylight, I announced myself to start and fulfilled the tour 1991.
Year 1992 passed without any announcement. But then in year 1993 the married couple Lena and Håkan Jernehov started and the following years it began to roll on. Britt-Marie Berglund published articles in Kanot-Nytt */, Jörgen Wikström in Utemagasinet */, Karin Mentzing in Kontaktnätet */, Mattis Seppänen in the Finish Horizon, Peter Unold in the Danish Kayak info and Tamsin Venn in the American Atlantic Coastal Kayaker.
There is no starting fee connected to HBB. The paddlers who as a memory of the tour like to have a HBB-miniature kayak with their own name could be given one to a self expense of at the moment 400 SEK.
*/ Translations:
Havspaddlarnas Blåvita Band - Sea Paddlers Blue/White Ribbon

 Havkajakroernes Rødhvita Bånd - Sea Paddlers Red/White Ribbon

 Havspaddlarnas BlåGula Band - Sea Paddlers Blue//Yellow Ribbon
Kajak-Nytt - Kayak News

Utemagasinet - the Outdoor Magazine

 Kontaktnätet - the Contact Net
HBB in the beginning
The Seapaddler´s Blue Ribbon of Sweden was established in 1990 by Jim Danielsson.
In 1991 Jim became the first paddler to be awarded the Blue Ribbon. Since then the tour has been accomplished by paddlers from Sweden, Finland, Denmark, Germany, Great Britain, Norway and Swiss. (alpha sorted by appearance)
Five paddlers had already made the tour along the entire coast of Sweden long before the rules were established. These paddlers have been made honorary members of the Blue Ribbon.
To a paddler who considers making an attempt to obtain the Blue Ribbon can be said that many experiences of different kinds will be waiting while moving along in a kayak from Svinesund to Haparanda. There is however reason to raise a finger of warning. Although Swedish waters are known by international paddlers to begin with a protected coastline and a lack of real tide, one should not underestimate the potential dangers. There are some passages that may put a paddler to the test if the weather suddenly should deteriorate. It is also a long way to go, roughly 2.300 kilometres, and it will surely put a strain on both body and mind. So do not look too romantically upon an oncoming tour.
Several paddlers have aborted their attempts when overwhelmed by harder weather condition than expected and to avoid falling outside their own abilities. Their wise decisions have been well grounded. Some have started out alone only to learn that they cannot cope with solitude over such a long spell of time.


© Erik Leonsson HBB-erövrare nr 42
Just a little more about paddling HBB
To paddle the entire Coast of Sweden is truly a long distance paddling in the right sense of the word. Of course, different paddlers are making the trip in different ways. Some like to test themselves and their equipment to the limit by finishing the trip as fast as possible, others just glide along at a leisurely speed enjoying a summer, which forever will be very special to them.
Thus, the number of days a paddler is out on the trip is of no importance for obtaining the Blue Ribbon. However, the interest in an unofficial record will always be at hand and therefore the book of records will be updated each time a new record is set.
No matter how a paddler chooses to perform the trip, he/she should put an honour in staying within their own safety-zones. Any paddler who completes the tour will get to know his/her own real qualities and he will for ever be rewarded by a unique experience, an experience he him-/her- self has earned by using his/her own muscle-power and wit while travelling as an humble guest in the vast kingdom of sea and nature.
Each paddler will discover that even the safest waters can be hard to negotiate if the sea decides to roar and roll, as on the other hand the most ill fated waters can be quite comfortable to pass if the weather is smiling - a well-known fact that paddlers from all over the world are well aware of.
One thing that all paddlers have in common is that we quietly navigate our little boats, slow or fast, day or night and we are given a rhythm of life that only a few know exists parallel to our modern society.
Furthermore, regardless of what category of paddlers we at present are part of - long or short distance-paddlers, river-runners or gourmet paddlers - and regardless of what type of kayak or canoe we paddle at sea, on lakes and rivers - as seafarers we are all sisters and brothers.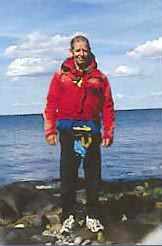 HBB is neither a club nor an association with a board of directors and regulations
and has no juridical responsibility.
HBB is a paddling-tour under simple rules.

HBB = Swedish abbreviation of Havspaddlarnas Blå Band (The Seapaddler´s Blue Ribbon of Sweden)