Från den femte HBB-paddlingen

From the fifth HBB-paddling
En ensam paddlare - Jim Danielsson - fångades av fotograf Bengt Öberg i Sote Kanal.
A lone paddler - Jim Danielsson - was captured by photographer Bengt Öberg in Sote Kanal.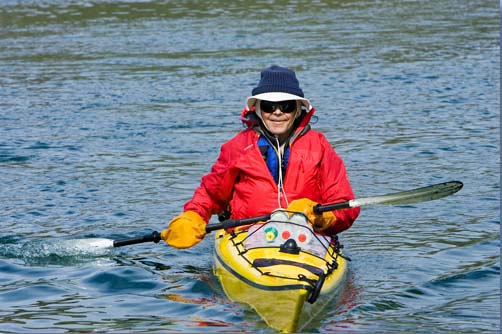 Ensam kom han där i kanalen.
Alone he came there in the channel.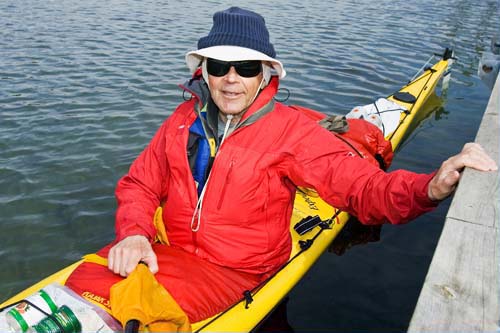 Ingen paddling utan en viss kontakt med fasta land.
No paddling without a certain contact with solid ground.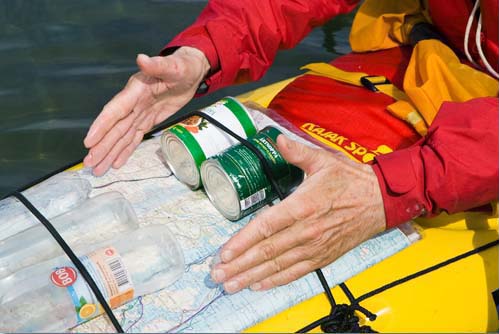 Här har jag allt jag behöver. Sjökort, vatten o mat för dagen.
Here I keep all I need. Maps, water and food for the day.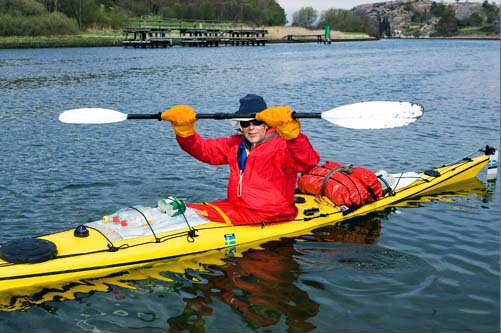 Med sin paddelhälsning till oss alla ...
With his paddel salute he sends his regards to us all ...


... glider denne ensampaddlare vidare genom Sote Kanal.
... and alone he glides on through Sote Kanal.

Lycka till med paddlingen, Jim
Good Luck with your paddling, Jim.
Trots det tuffa vädret som envist råder och tvingade Jim att bryta efter kajakskada, paddlar Jim nu åter vidare efter sin omstart och fångas ibland av en kamera under sin paddling.
In spite of the persistent hard weather that forced Jim to abandon after damage to his kayak, Jim is now again paddling forth after his restart and is sometimes caught by a camera during his tour.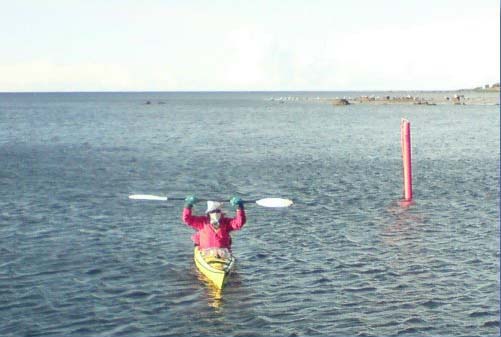 Medan jag (webmaster) låg stilla I Skillinge kom Jim och besökte mig innan han paddlade vidare.
While I (webmaster) was resting at Skillinge Jim came to visit me before he went on.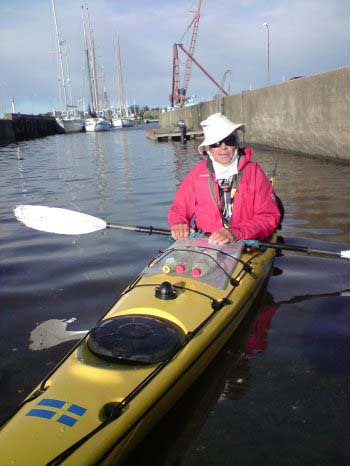 En havspaddlare har kommit i hamn.
A sea paddler has com into harbour.


Jim har nu kommit upp trakten av Melön där Kenneth Malmberg fångade honom med denna bild. Således har han passerat Valdermarsviken och är snart halvvägs till Haparanda
Jim has now reached the area of Melön where Kenneth Malmberg captured him with his camera. In this way he has just passed Valdemarsviken and is soon half way to Haparanda.
Senare meddelande låter oss veta att Jim passerat Husum. En målgång är snart att vänta.
Later messages let us know that Jim has passed Husum. Arrival at Haparanda is soon expected.
Jim har nu - 9 juli - kommit i mål på denna sin femte HBB-paddling. Ett stort grattis! Samtidigt med meddelandet om målgången 12.50 sa Jim att denna paddling varit den tuffaste han gjort. Vädret har inte varit tillmötesgående. Han lät nöjd o glad under samtalet.
Jim has now - July 09 - reached goal in this his fifth HBB-paddling. Congratulation! At the same time as the message about reaching goal at 12.50 he sad that this paddling has been the hardest ever. The weather hasn't been cooperative. He sounded satisfied and happy during the call.