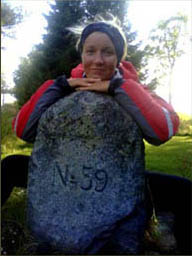 Elin Petersson (2009) and Hanna Liljebäck (2009) at the stone Nº 59. A goal often dreamt of.
As a paddler reaches Haparanda after start in Svinesund the memory bank is highly enriched by experiences and impressions from the tour. The route might seem to be the same for everyone, but weather condition gives an obvious variation. There is however one way we most often share with others who also have made the distance. This is the gate in to Stråkvägen 24 in Solna where Jim Danielsson lives with his Gun. The jury meeting with the paddler is waiting.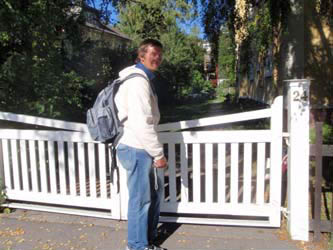 This might be the most well known passage to a HBB-paddler that Pasi Airike is about to open with his jury meeting at hand. The gate in to Stråkvägen 24 and we all remember how tension and expectation increased.

If we have announced our paddling from Svinesund at the Norwegian border along the entire Swedish coast to Haparanda at the Finnish border the log book isn't telling all. After reaching the goal at landmark 59, comes most often reverberations of different kinds. One reverberation is obvious. A meeting with theHBB- jury will round off the tour. It isn't enough saying that we have landed at Virtakari to be an approved conqueror of Havspaddlarnas Blå Band. We have to prove that we have paddled the estimated 2300 kilometres at our own capacity and skill according to the rules and followed those.
When this has happened the members of the HBB jury find great joy to in company with the paddlers celebrate their achievements. We like to memorize them all and have now started this page. It started 2007 as a try and became a habit from 2008. A page we hope more than us find interest in.
HBB Webmaster
5 x HBB
During the past years, since Jim Danielsson's first tour 1991, many have paddled HBB one time or more and here are images from those meetings. At first however a glimpse from the five folded conquerors.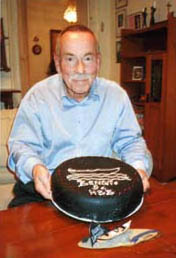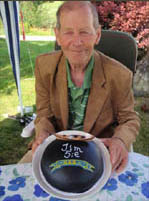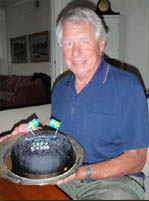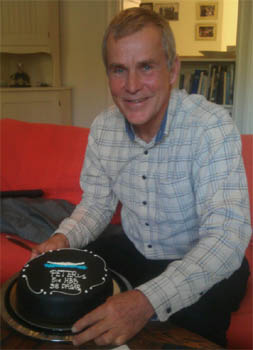 The five folded-quartet: Bengt Larsson year 2008 | Jim Danielsson year 2009 | Leif Andersson year 2009 | Peter Magnusson year 2014

6 x HBB
Year 2014 was the tart golden yellow as the times someone had paddled HBB increased to six. We congratulate Jim for his efforts that probably a record hard to beat.
The year after - 2015 - got Jim company by Peter in this group of six-folded conquerors and the tart was brown.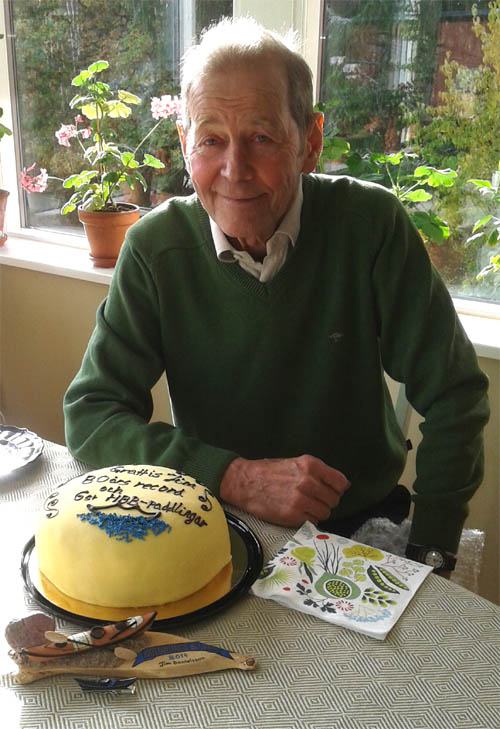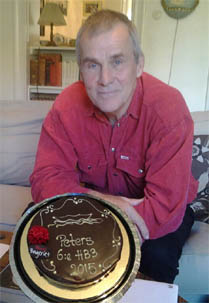 Jim Danielsson år 2014 - Peter Magnusson år 2015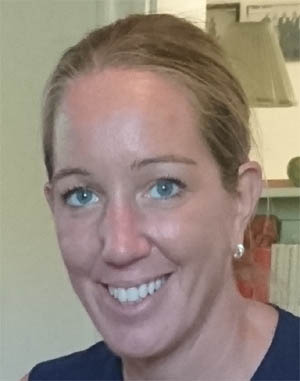 PERNILLA OMBERG
Approved by the jury 2016 September 07

The first jury meeting was held for Pernilla. The jury members were Sven Berggren, Jim Danielsson and Thorvald Nielsen who also registered the meeting in photos.
Pernilla had a very nice account that the jury liked.
As she only used GPS she had no charts with the route drawn. Instead she had photos from how the GPS had saved her route. Pernilla has in other words used what's possible in the technique and got a clear view of her tour.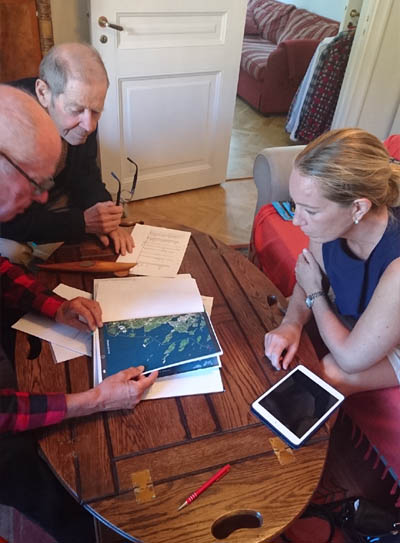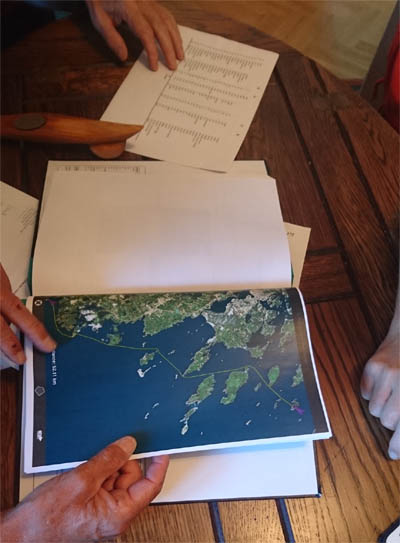 Her account for the tour left no questions and was soon scrutinized by the jury that soon could approve her HBB-tour.

To celebrate this year's only female paddler a delicious cake was brought forth.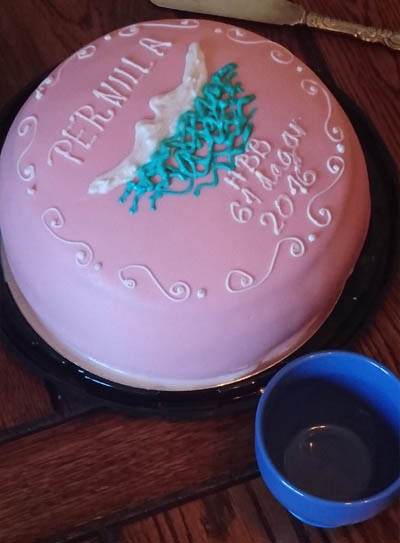 In connection with her reach of goal sad Pernilla she had have a fantastic tour coming up to all her expectations. The weather had not caused her any problems even if sometimes tough. Her happy smile doesn't surprise us.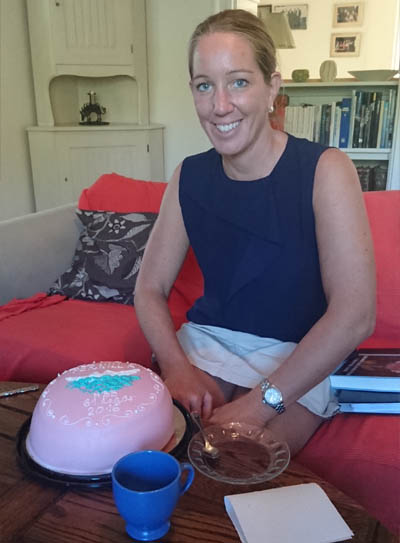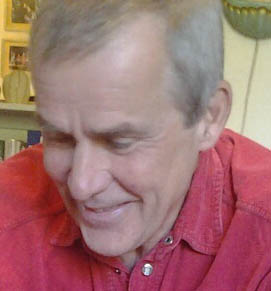 PETER MAGNUSSON
approved by the juryn 2016 September 14
Today it was Peter's turn to stand in front of the jury. In the jury he found Sven Berggren, Jim Danielsson and Thorvald Nielsen also acting as photographer.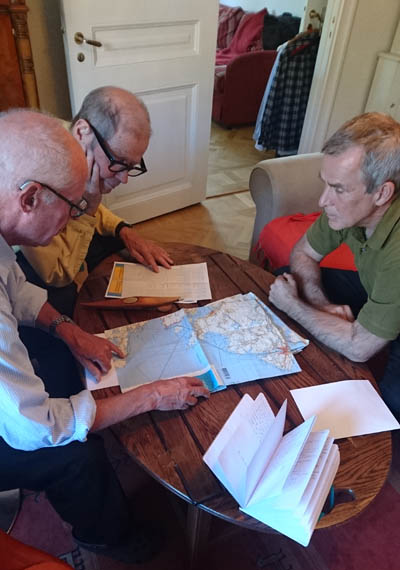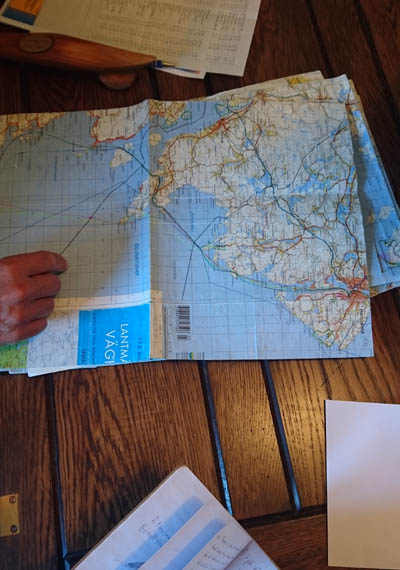 This was the seventh time to Peter and he had his account in good arrangement with the route fully readable through the maps.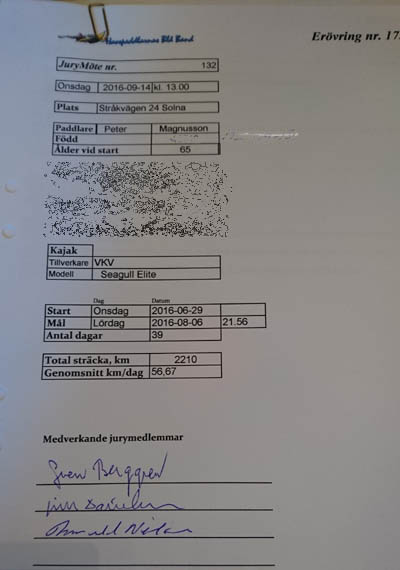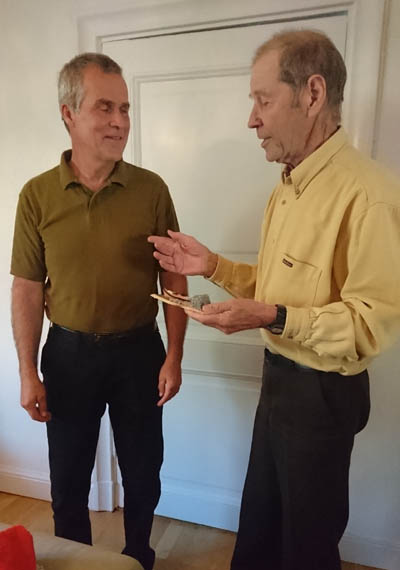 It was not long before the jury could give their approval and Peter got his miniature kayak from Jim.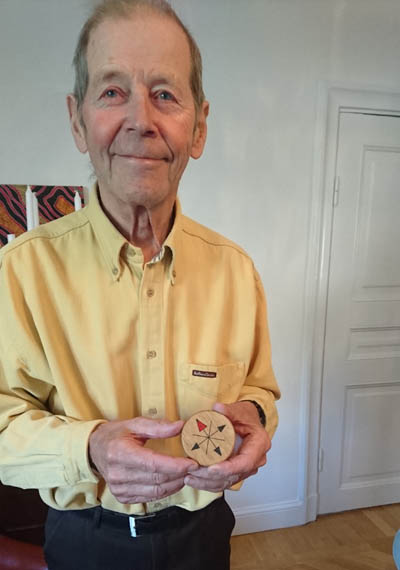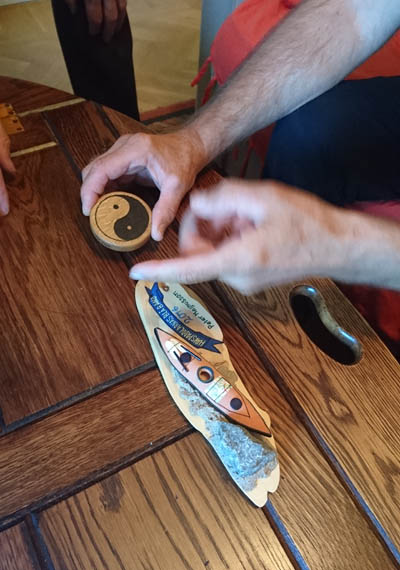 Peter liked to give Jim a self-made medal from oak wood as gratitude for all his jury meetings. At one side was a compass rose and the opposite side showed a Tai Chi symbol. The symbol represent the skills needed to fulfil a HBB-paddling.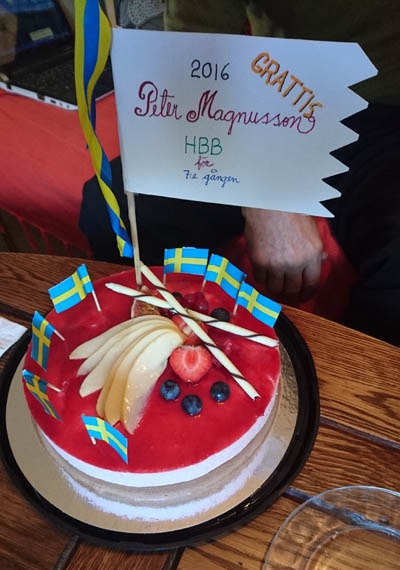 To celebrate this seventh time of HBB paddling was a new tart presented after well-known beer and sandwich and chat.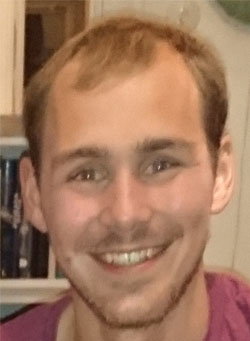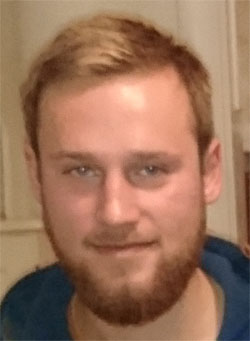 EMIL GYLLENBERG och EMIL SÖDERLUND
Approved by the jury 2016 October 25
Today it was time for the two 'Emils' to stand in front of the jury that was one man short bit still legal and led by
Jim Danielsson with usual help from Thorvald Nielsen.
After their start April 17 the - the Emils - are now they who have started earliest within HBB. Many have followed them through their blog. In time for their passage of Piteå they could as the first HBB-paddlers use the recently opened canal north of Bondön for leisure vehicles. Just for not be forced to go round the island on their way north.
As the jury was a bit decimated had the camera got to be left aside while maps, charts and log book was scrutinized.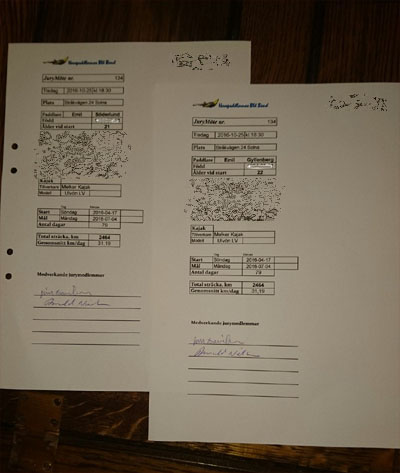 Without finding and wrongs could their tour be approved and the record be signed.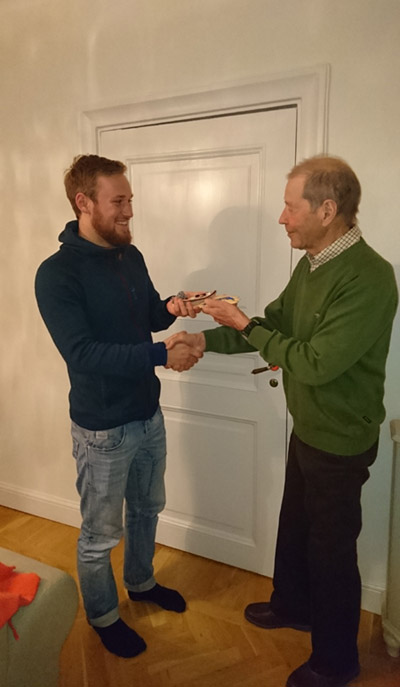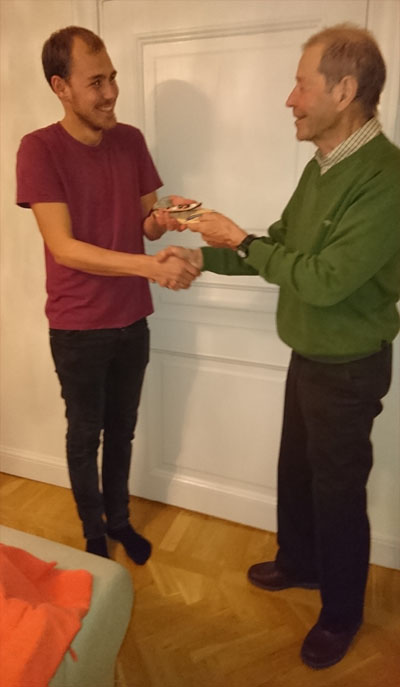 On that followed handing over of the miniature kayaks.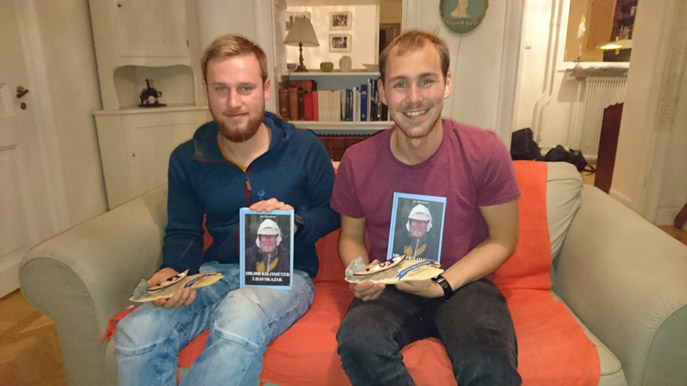 The pleasure of being approved is not to be passed.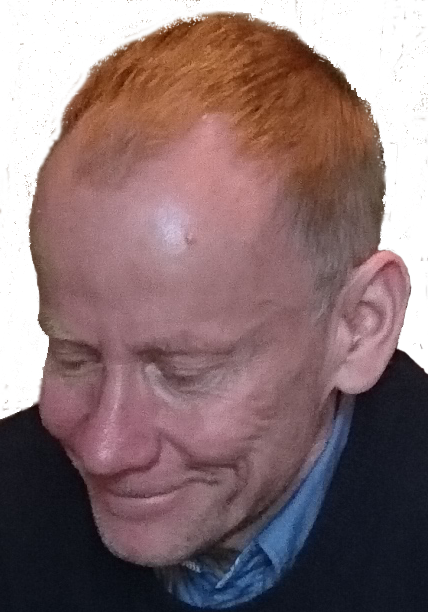 STAFFAN SÖDERSTRÖM
Approved by the jury 2016 November 19
In the Jury where found Sven Berggren, Jim Danielsson as well as Thorvald Nielsen besides also photographer during the meeting.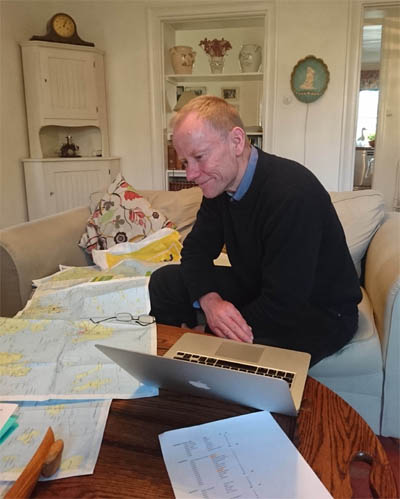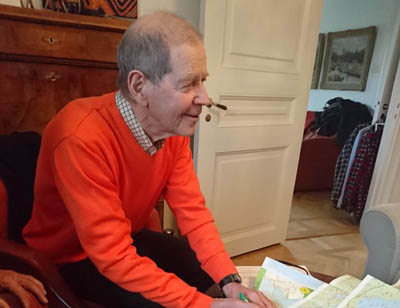 Staffan brought forth his maps and computer while Jim wondered: "But Staffan, here is no trace drawn.' Well. None of present was worse man than that problem could be solved.
It was pure luck the computer was brought along, there could surely all dates be receptively and the meeting could proceed.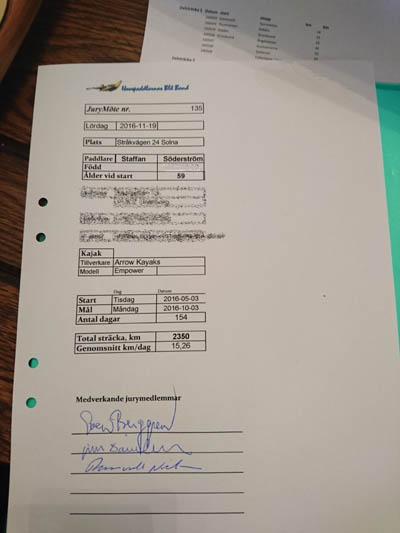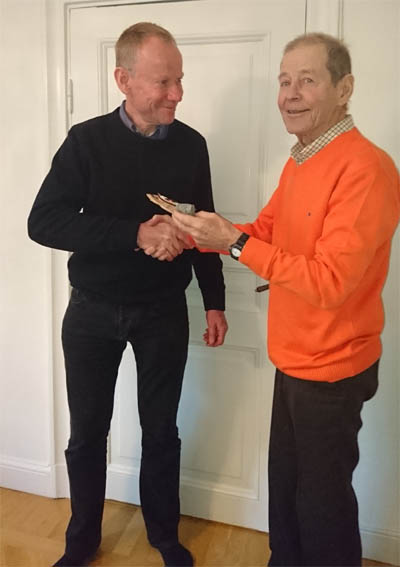 Soon enough could the jury agree in their verdict and the registration be done. After this could Staffan get the miniature kayak handed over by Jim.
Staffan did put a new record in number of days - 154. Despite this was a forced on time with work he had to do, Did Staffan never lose his intention to paddle the entire coast.
Time expense has now importance in this no-competition where the follow-through is the goal.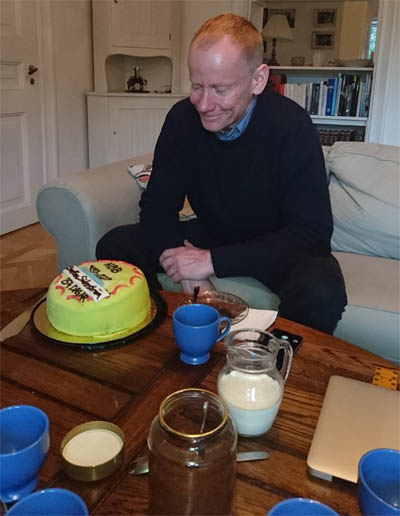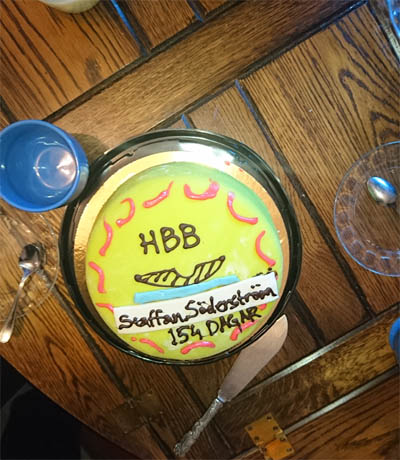 A delicious tart was later served to celebrate his records and that Staffan reached the goal of his intention, in spite the webmaster by a misunderstanding cut him out far before halfway.
By this an extra CONGRATULATION to Staffan.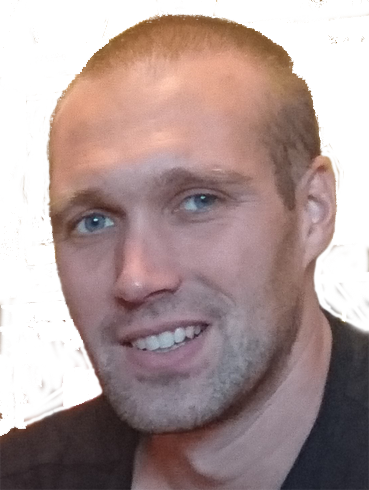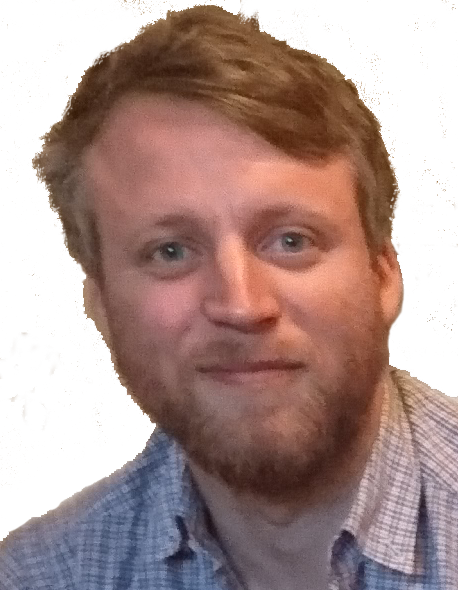 JONATHAN ASKESJÖ & MIKAEL STENHAMMAR
Approved by the jury 2016 December 01
The jury consisted of Sven Berggren, Jim Danielsson and Thorvald Nielsen, who also was the photographer.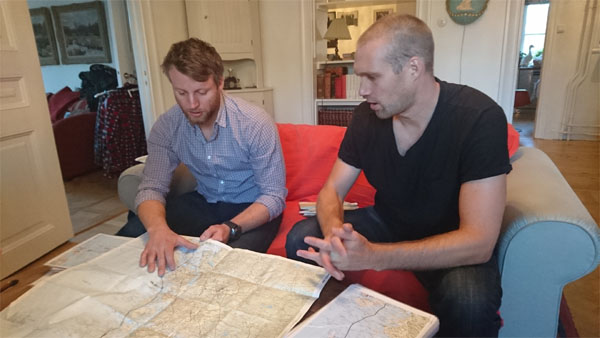 After a good examination of maps with the drawn track from the tour could the jury agree on their approval.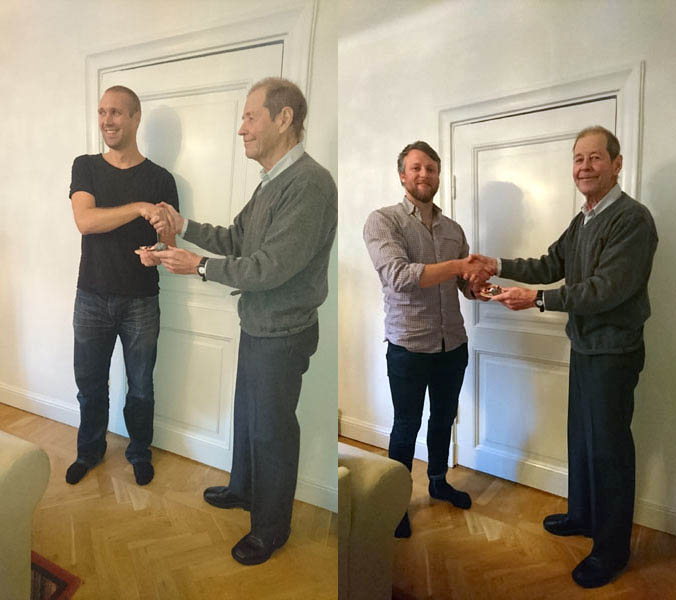 Finally got Jonathan and Mikael their desired miniature kayaks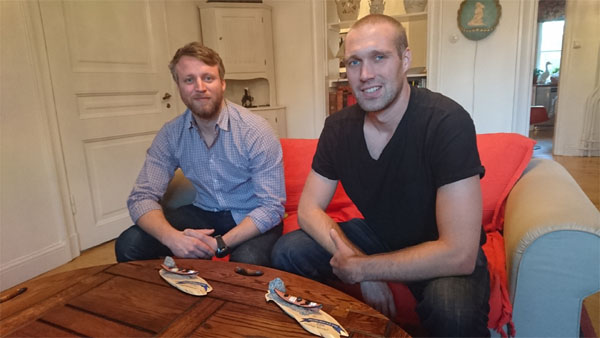 They had become approved conquerors of HBB.

In this way was the HBB-season ended that in this year had been hard-working, interesting, unique and filled with experiences to the paddlers with winds in 'good manner' not were at their side.

Links to the years: 2007 and 2008 | 2009 | 2009 Special | 2010 | 2011 | 2012 | 2013 | 2014 | 2015