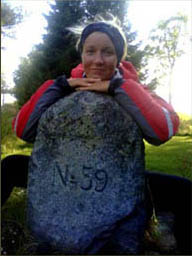 Elin Petersson (2009) and Hanna Liljebäck (2009) at the stone Nº 59. A goal often dreamt of.
As a paddler reaches Haparanda after start in Svinesund the memory bank is highly enriched by experiences and impressions from the tour. The route might seem to be the same for everyone, but weather condition gives an obvious variation. There is however one way we most often share with others who also have made the distance. This is the gate in to Stråkvägen 24 in Solna where Jim Danielsson lives with his Gun. The jury meeting with the paddler is waiting.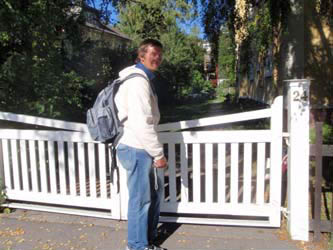 This might be the most well known passage to a HBB-paddler that Pasi Airike is about to open with his jury meeting at hand. The gate in to Stråkvägen 24 and we all remember how tension and expectation increased.

If we have announced our paddling from Svinesund at the Norwegian border along the entire Swedish coast to Haparanda at the Finnish border the log book isn't telling all. After reaching the goal at landmark 59, comes most often reverberations of different kinds. One reverberation is obvious. A meeting with theHBB- jury will round off the tour. It isn't enough saying that we have landed at Virtakari to be an approved conqueror of Havspaddlarnas Blå Band. We have to prove that we have paddled the estimated 2300 kilometres at our own capacity and skill according to the rules and followed those.
When this has happened the members of the HBB jury find great joy to in company with the paddlers celebrate their achievements. We like to memorize them all and have now started this page. It started 2007 as a try and became a habit from 2008. A page we hope more than us find interest in.
HBB Webmaster
5 x HBB
During the past years, since Jim Danielsson's first tour 1991, many have paddled HBB one time or more and here are images from those meetings. At first however a glimpse from the five folded conquerors.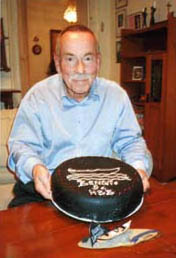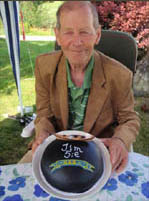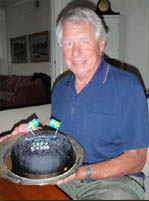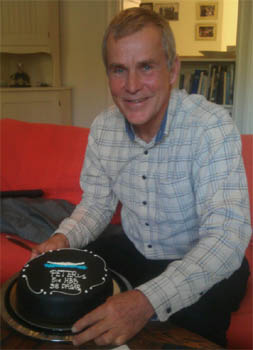 The five folded-quartet: Bengt Larsson year 2008 | Jim Danielsson year 2009 | Leif Andersson year 2009 | Peter Magnusson year 2014

6 x HBB
Year 2014 was the tart golden yellow as the times someone had paddled HBB increased to six. We congratulate Jim for his efforts that probably a record hard to beat.
The year after - 2015 - got Jim company by Peter in this group of six-folded conquerors and the tart was brown.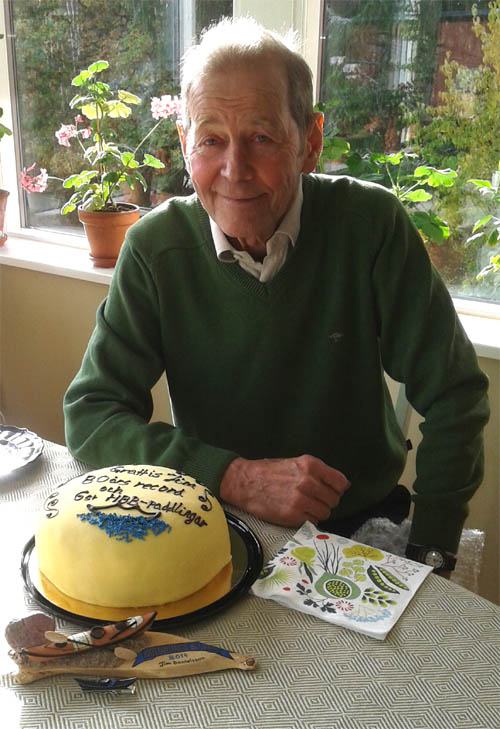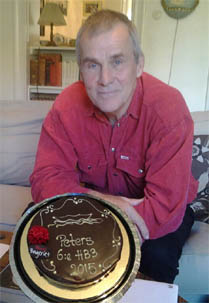 Jim Danielsson år 2014 - Peter Magnusson år 2015

2018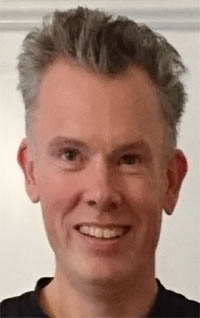 JONAS WAHLBERG
Approved by the juryn 2018 October 10
The first jury meeting this season started with the meeting held for Jonas and from HBB jury were Sven Berggren, Jim Danielsson, Magnus Fischer and Thorvald Nielsen also as photographer present.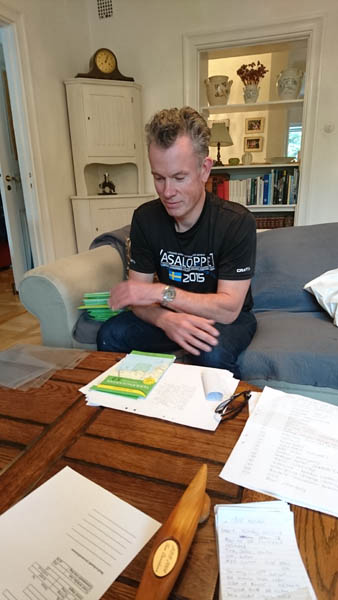 In concentrated expectation Jonas prepared himself to give account for his paddling and answer questions if needed.
The review run well and Jonas got his paddling approved by the jury without remarks.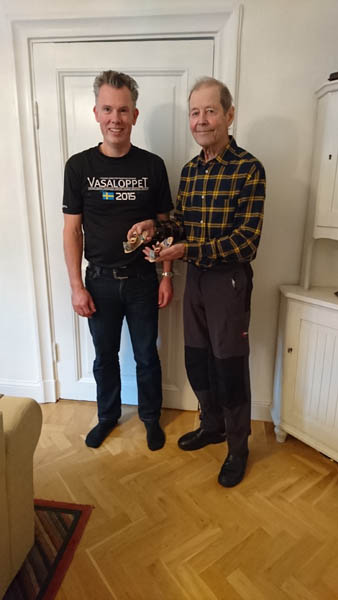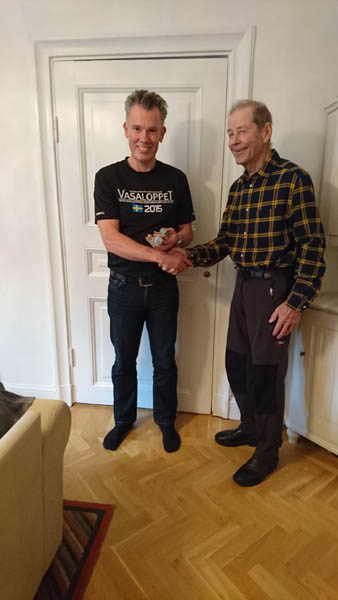 As proof of this Jonas could get his miniature kayak. No! We don't see double. There are two kayaks that Jim have the pleasure to hand over. One is a copy of the other and both are for the same tour as Jonas wanted this. It was the first time a paddler was given two miniature kayaks.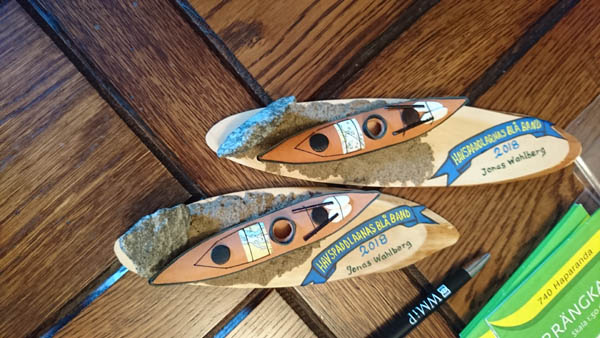 While we look at the couple was a Swedish fika with beer served to them all and later was the meeting ended.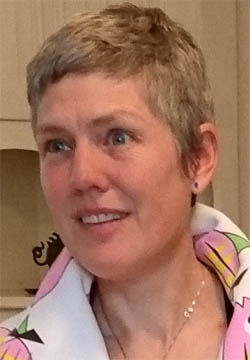 Nenia Zenana
Approved by the jury 2018 October 21
At her way back home as she passed Solna was a jury meeting arranged. From HBB were Sven Berggren, Jim Danielsson och Thorvald Nielsen present and also Jacob, Nenia's husband who had flied to Piteå to fetch the car and droved to Haparanda
to pick up Nenia and Mille bring them back home.
At last could Nenia sit down in front of the jury. Her tour was carefully drawn in a large map.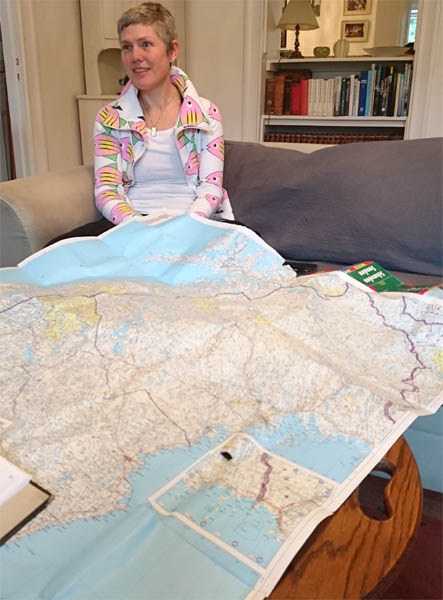 A specific point along the tour was comment on and explained …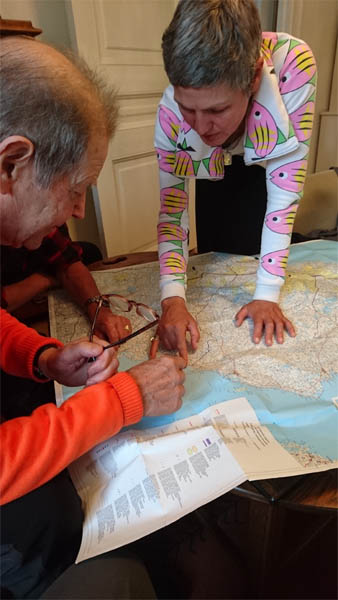 … and in addition to that were no problem found and the jury could unanimously approve the tour and Nenia was handed her miniature kayak.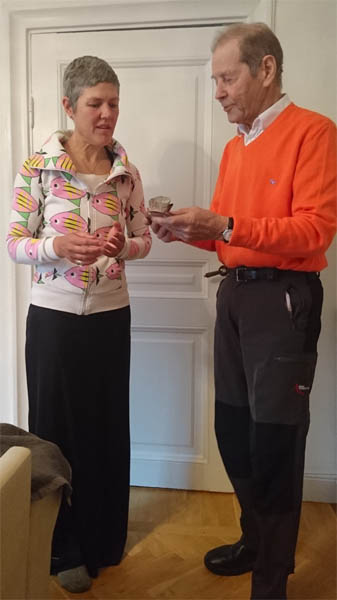 Up on this followed coffee and tart whose decoration touch Nenia, but if is the first Danish female to be approved HBB paddler it is also worth celebrating.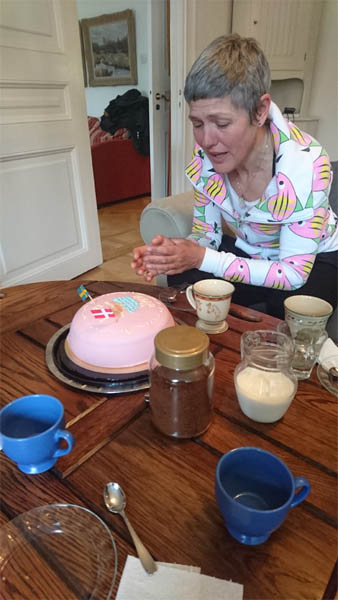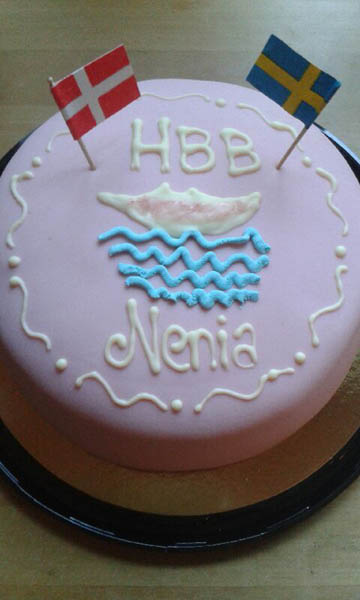 JAN OLOF JOHANSSON
Approved by the jury 2018 November 06
The jury consisted by Sven Berggren, Jim Danielsson and Thorvald Nielsen moreover photographer as many tines before.
As friend of order celebrated The Gothenburger Jan Olof this day by manage his meeting with the jury. Any traditional pastry typical for Gustav Adolf Day as the grounder of Gothenburg was not for JO (Jan Olof).
JO had his tour carefully drawn in maps and were easy to follow from start to finish. JO had made this tour 2015 and by this know how the meeting proceeded. All maps and logbook was presented in folders easy to turn the pages as the tour was checked. The besides comment from JO made the meeting pleasant.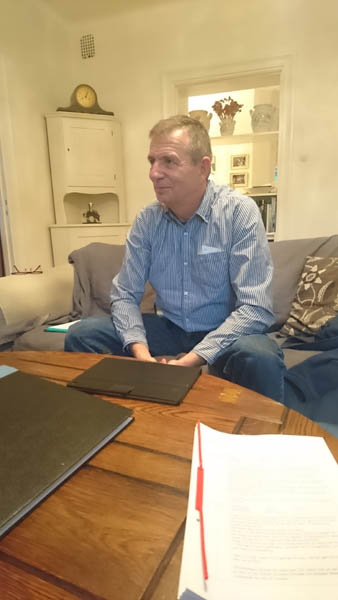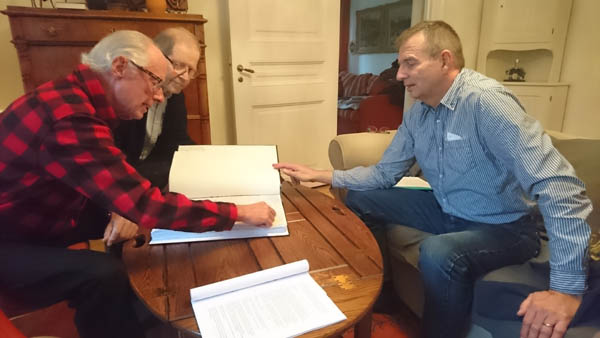 As the checking run on and came to the end could the jury unanimously approve this tour, the second made by JO. Consequently could JO once more receive the memory kayak given by Jim.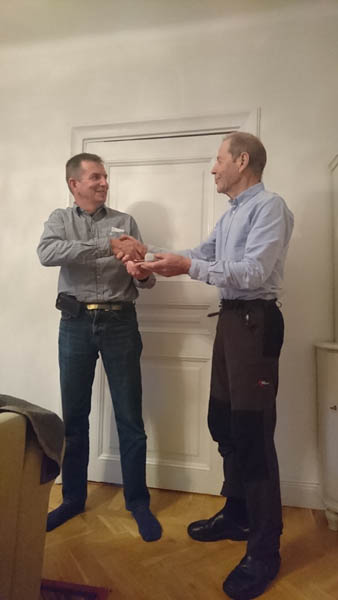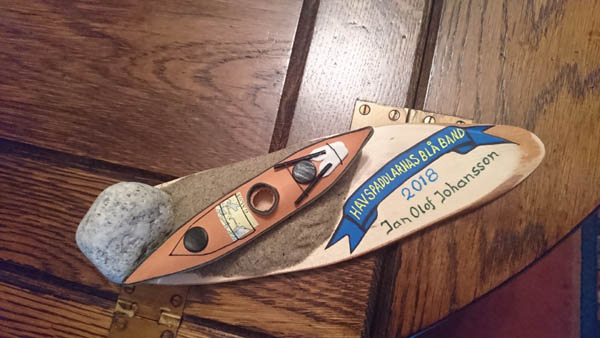 The meeting was later ended by open talk and story telling together with some eatable and a tart celebrating JO's second tour. Any traditional pastry in Gothenburg did he miss, but this tart was doubtlessly tastier.


JO had a photo of the jury - Thorvald, Sven and Jim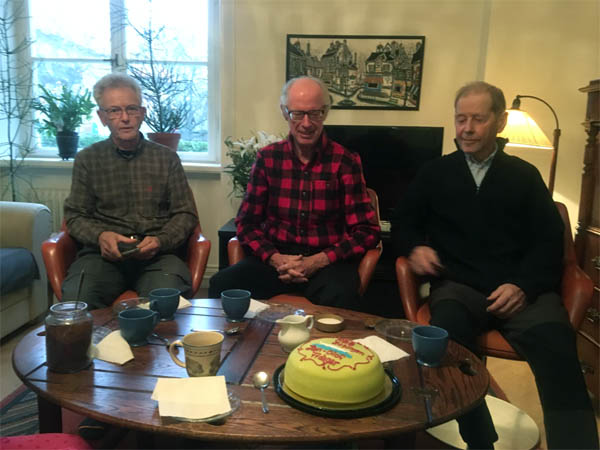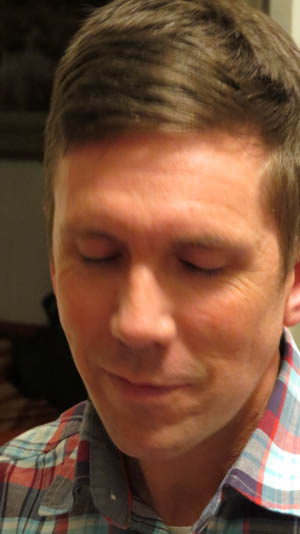 MATTIAS SÖDERBERG
Approved by the juryn 2018 November 23
Apart from usual constellation with Sven Berggren, Jim Danielsson and Thorvald Nielsen was Lennart Bergström also present. Any relief to the jury was not added by this more than the photo documentation was not the second task to Thorvald this time.
Mattias together with his younger brother Johan were grated and the meeting could be started dead on time. The maps were in two sizes - either A4 or A1 in a bit peculiar mix.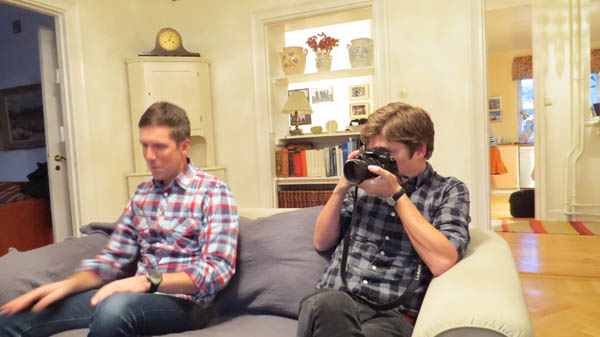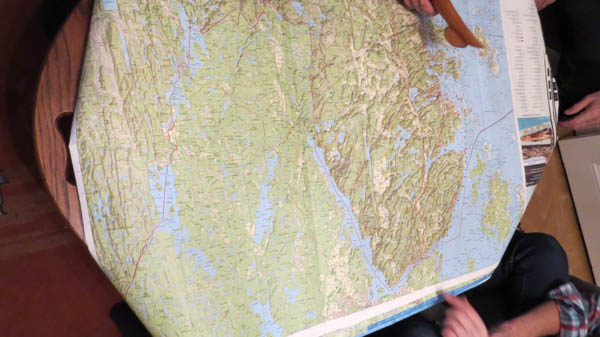 It was a turning of pages in different size and naturally was the search part at the back of another. With a good teamwork were the problems solved Mattias had had with the order.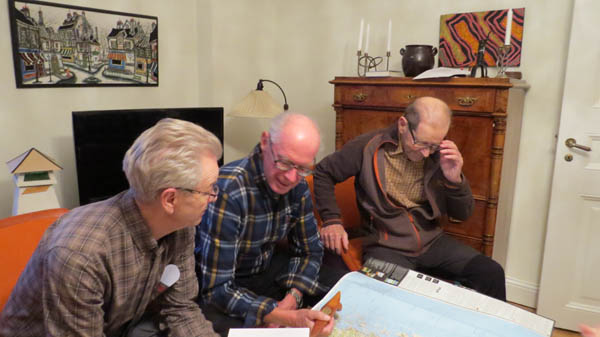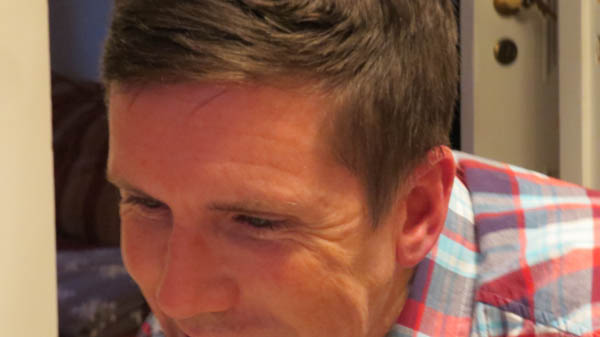 All turned out well. No way points caused explanation and the jury could give their approval. Jim asked the question "Have your red the rules and understood and followed them". Upon Mattias' "Yes" could Jim with pleasure overhand the HBB miniature kayak that Mattias got with pleasure and satisfaction.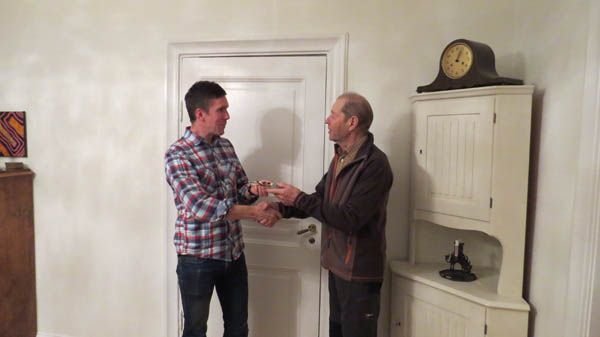 Beer and sandwiches were brought forth and the open talk started. Mattias had a lot to tell about his tour.
Later it was time for "Swedish fika" - coffee and a nice saffron cake while the talk went.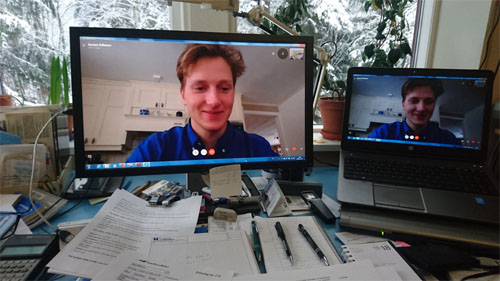 GUSTAV ERIKSSON
Approved by the jury 2018 December 19
Today's jury meeting was held via Skype with Gustav proceeded well as planned. From HBB were the trio Sven Berggren, Jim Danielsson and Thorvald Nielsen present.
This was first time Skype was involved in a meeting. While Gustav was in Kiruna he had sent maps with a drawn trace together with his log book to Jim.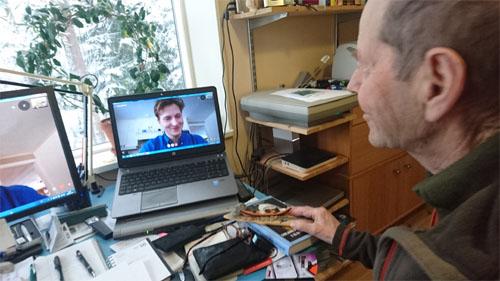 Perhaps was it also a premier to Jim sitting by a computer and ask the essential question with eye contact. Right answer was given and the meeting could later be closed with solid approve to Gustav.

By this, in this eleventh hour of the year, we wish you all
MERRY CHRISTMAS.
Links to year: 2007 and 2008 | 2009 | 2009 Special | 2010 | 2011 | 2012 | 2013 | 2014 | 2015 | 2016